Post by Nero Jacaruso on Jun 30, 2009 16:33:38 GMT -6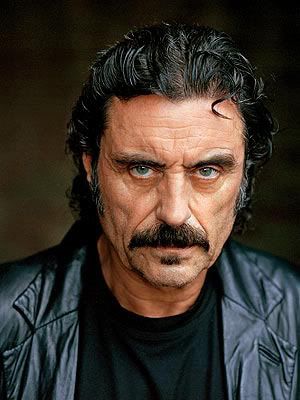 Nero Jacaruso
Name:
Nero Tammaro Jacaruso
Known Aliases:
Tammaro Jacaruso, Inquisitor
Play-By:
Ian McShane
Family:
Provenzano
Rank:
Underboss
Convictions:
Murder(2), extortion(1), narcotis traffiking(2),
Date of Birth:
May 25th 1958
Place of Birth:
Trapani, Italy
Age:
51
Sexuality:
Straight
Relatives:
Father: Jacopo Tammaro Jacaruso, deceased
Mother: Marietta Jacaruso (nee Licavoli), deceased
Sister: Rina Esposito (nee Jacaruso), age 49, lives Atlantic City, New Jersey
Spouse:
Josefina Jacaruso (nee Adams), age 50
Children:
Nicodemo Jacaruso, age 19
Maria Jacaruso, age 17
Personality:
The Underboss of The Provenzano Crime family is six weeks ahead of everyone else in New York, he knows every move that every important person makes, anticipates problems and eliminates them. He is very strict boss and leader. He demands obedience from his caporegimes and is ready to punish them severly. He doesn't like when someone tries to hide things from him and those caught on lying usually end up dead. He was very loyal to the Don but was constantly making things work for him. He has aimed for the Dons position for long time but hasn't made any move yet. He is very ruthless and likes to torture those who are hiding information from him thus the nick name Inquisitor.
For all his Mephistophelean qualities, Nero does have a soft spot for certain people, including his wife Josefina, his son Nicodem, and his daughter Maria.
Appearence:
He is almost 6' feet tall with black hair. He doesn't fancy dressing up too much and wears usually jeans, t-shirts and leather jackets. But for very formal situations he has a suit ready. He is still in good shape and keeps it that way by going joggin from time to time. He likes his mustaches and keeps them trimed alongside with his beard. He knows he is getting old and doesn't try to make himself look younger.
Background:
A native of Trapani and the son of a stern Sicilian mobster, Nero left home for good at the age of sixteen and ended up in Atlantic City, USA during 60s. A natural leader, he started to run a gang of his own in his early twenties and was eventually merged in to the Provenzano crime family. He took the controls of the most successful bar and prostitution ring in all of New York—bringing in $15,000 a day in 1975—and anybody that threatened his sources of income ended to sleep with the fishes.
In 1983 Al Richards an Brooklyn Police Commissioner, whos deeds as the chief of brooklyn precint brought too much attention to Nero's enterprise was killed at Neros's behest. And when Abdul Robertson came to Nero to avenge a murdered narcotis courier, the Caporegime of Provenanzo family took care of things by personally drowning the junky.
Nero's hands-on approach earned him some enemies, and respect amongst the Provenanzo. In 1989 he was convicted for a five years prison sentence for murder, trafficking narcotics and extrotion. 9 months later his son, Nicodemo was born. Year later he was allowed to visit his family for behaving well. He briefly visited his family but spent most of the time by checking on his bussiness. In 1992 his daughter, Maria was born. Nero kept an close eye on his bussiness from prison and prepared them for his return. He was released in 1994 when is sentences ended.
He returned to running the prostitution ring but noticed that his men had started their own narcotics traffiking in secret from him. The leaders of the ring mysteriously dissappeard and Nero took it over. He continued to earn for the family and when Lombardo took over he was promoted to the rank of Underboss. During this time he started to do more money in his own pocket than to the Dons but was still loyal. He also worked closely with Baratta. He was the first to support his idea of sending contracts on Lombardo and his family. Now that the Don's position is open Nero is trying to get the others behind him, to support his selection as the new Don.
RP Sample:
It's me Mario...i mean Arc/Juliano/Stark/Nicodemo/James etc.