Cactus
Jun 21, 2009 21:23:56 GMT -6
Post by Cactus on Jun 21, 2009 21:23:56 GMT -6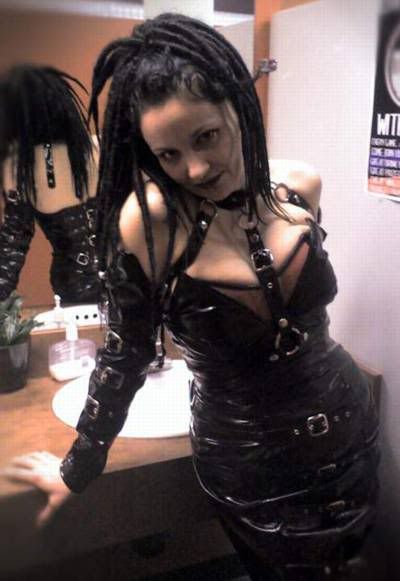 Cactus Varlow
Name:
Cactus R. Varlow
Known Aliases:
Kumi
"Freak"
"Lil miss four"
Play-By:
Zombie Girl
Job:
she just got out of being in an asylum o.o
Convictions:
well if you count the asylum....
she was in the asylum her entire life due to her father's ignorance
Date of Birth:
13.9.1989(day.month.year)
Place of Birth:
Small area in Maine, the exact spot is unknown
Age:
20
Sexuality:
supposedly straight BUT it is unknown due to the fact that she's never really loved anyone before
Relatives:
Mother-died in labor
Father-drunken basterd somewhere
"sister like"-omen
Spouse:
nope
Children:
nope
Personality:
The easiest way to explain this is her general personality and then get into her split personalities.....By da way, each personality has a name for themselves
Typically, Cactus is a quiet girl. She doesn't know how to think on her own, often relying heavily on others. She doesn't know how to act "civilized" due to the fact of being in an insane asylum for pretty much her entire life.
Dead Little Girl-aka; Lolita
Lolita was made out of the sadness in Cactus's heart. She is the most "young" one of the four. Whenever Lolita shows up, it's normally to shed tears....
Demon-aka; Morumi
Morumi is one evil bitch! She is quiet, yet very manipulative. She knows how to get what she wants and won't stop at anything to get it! Morumi was made during her time in the asylum. Her hidden hatred kept building until Morumi came into view.
Insanity-aka; Paranoia
Paranoia is the pure crazy one. Paranoia was made during the times that Cactus was put on 'high medication' due to the asylum. Paranoia loves the thought of death and simply gets shivers of delight. She sees beauty in death.
Appearence:
Cactus is your typical goth. She will often wear black leather and fishnets. Cactus wears a black chocker around her neck. She claims that it 'prooves her virtues.' Whatever they may be.(her outfit is super hard to describe, refer to pic for visual v.v)
Background:
Cactus was born to a lower middle class family. Her mother died while giving birth due to something in the blood type. Cactus was somewhat smaller then your average baby, but that was just due to minor complications that haven't seemed to affect her today.
Her father drank off his solems. He would get terribly drunk, though he wasn't the violent kind. He was more of the sleepy/delusional kind. He got tricked into selling off his daughter to an asylum for the insane in this state. That's when Cactus's Hell began.
She was dreadfully confused as to why she was sent here. She didn't do anything bad did she? Though the first thoughts that came to her mind when she came here was, 'I am coming here to die.....not be "cured" or live....'
The chambers were dirty and just gnerally filthy in general. Albino plagued rats ran around the asylum. Many inmates were free to roam the corridors, but some were forced to stay in a cell day in and day out. Cactus would often just stand in a corner, waiting for someone to notice her. The noticement never came though.
It grew worse as she spent year after year in this hellish containment. Leech and shock "treatments" were often in order. Due to the shock "treatments", Cactus was forced to loose her memory of her life before the asylum. She began to dread being taken out of her cell. Morumi, her "demon" split personality was formed here. The hidden hatred towards the doctors built up until another "self" was formed.
Paranoia was the second to show through. Paranoia was created from the insanity that came with the high "perscription" drugs they kept Cactus on. Cactus believes that in her dreams, Paranoia "visited" her and pursuaded her to take her in as one of her own "selfes."
The last split to form was Lolita. Cactus ended up getting a new doctor due to the fact that her doctor was too ill to work and ended up breaking a leg. This man seemed much more gentle with Cactus then her past doctor. It came almost to the point where she was begining to fall in love with him. This kind of relation was forbidden in the asylum. The man ended up hanging himself to escape the gruesome fate that the asylum had in store for him. Cactus was left shattered and beaten.
It was never that Cactus got any visitors. Though one day a girl did show up. She was dressed in a gothic lolita styled dress with a single patch over one of her eyes. Cactus stared at her in confusion, wondering why she got a visitor. The lady explained to her the dirt and Cactus as deeply amused. The women told the girl that she could get her out, she just needed time to get the money. Cactus eagerly agreed.
It took two years to get the money. Cactus has just been let out of the asylum due to bribing money. She is currently under the wing of Omen. Cactus views Omen as her savior and is deeply devoted to the girl.
RP Sample:
A loud bang was heard. A door had been pushed roughly open. Cactus slowly looked up, seeing a rather tall women. Cactus sat carefully on her knees as she looked up at the women. She had raven black hair and single piercing eye. Cactus gulped quietly.
"I can get you out of here......" The women began. Her voice was dark and rough, almost to the point of sounding masculine. Cactus's eyes lit up. She smiled at the thought of being free from these prison walls.
"I'd give anything!" Cactus's voice was about twenty decibals higher. The women narrowed her eyes, Cactus's head fell submissevly, but she couldn't help the smile. The women smirked.
"Give me time and I'll get you out." Cactus nodded eagerly as she watched the girl leave. Cactus waited a few moments before letting out a yelp of joy. 'I'm going to get out! I'm going to get out!' Cactus thought with a purely maddened smile.