Post by Arcangelo Solo on Jun 25, 2009 5:24:53 GMT -6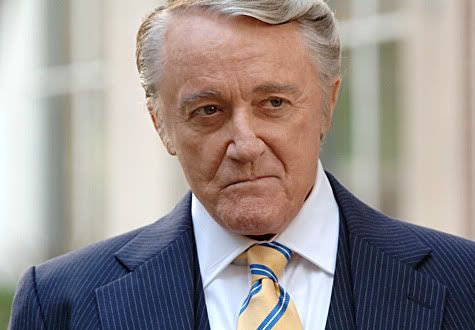 Arcangelo Solo
Name:
Arcangelo Roberto Soliano
Known Aliases:
Roberto Solo, Alberto Solo, Peter Stroller, Napoleon Vaughn, Father Juliano, Arcangelo Berlusconi, Eric Anderson, Mr. White
Play-By:
Robert Vaughn
Job:
Hotel & Casino magnate, club owner, "ex"-con artist
Convictions:
2 years for insurance fraud in United Kingdom
Date of Birth:
June,12th, 1944
Place of Birth:
Comune di Corleone, Palermo, Sicily, Italy
Age:
66
Sexuality:
Straight
Relatives:


Father: Alberto Soliano, deceased

Mother: Clementina Soliano (nee Vitale), deceased

Brother: Aldo Soliano, deceased

Spouse:


First wife: Cristina Gugliano, deceased in mob fight in Sicily

Second wife: Erica Manstein, age 58, divorced

Third wife: Natalie Andreson, age 60, divorced

Children:


Son: Albert Soliano, age 40 lives in Italy

Daughter: Maria Jones (nee Vaughn), age 36 lives in UK

Son: Luciano Stroller, age 30 lives in France

Daughter: Rosalina ??

Personality:
Most of all he likes cheating rich people, that is what he knows best and he really enjoys it. He also likes to gamble, poker is his favourite and he is quiet a good at it. Though he has a habit of cheating in poker too. He is a great fan of acting and almost became an actor himself. He also likes beautyfull women, who wouldn't really. He is an master of cold reading which he learned from an "mentalist" in Romania. He doesn't like the mob and seems them as the scum of the nation, he let's them play and stay in his hotels but he doesn't make bussiness with them as they were the reason for the death of his true love. He is very good with people and easily makes new friends, even if he is about to con them. He gives money to charity. His experience in life, bussiness and dealing with people has has given him advantages in life but still he wants more.
Appearence:
He likes to wear expensive suits, the expensive it is the better. He sometimes colors his hair black but usually lets it be gray. His usual appearence is Armani suit consisting of white silk shirt, a tie, Armani suit jacket, Armani suit pants, matching belt and black shoes. In parties he likes to wear a black tuxedo.
Background:
Born in Corleone, Sicily. His father was the Don of Soliano family and one of the wealthiest in Sicily. His mother was from the Vitale family. All his childhood Arch played pranks on others and from early age he started cheating and when he learned how to play Poker he often won the money of his fathers soldiers. He wasn't the brightest one in school but still managed to complete it with proud. In school he was the prankster and many times got in to detention because his pranks on the teachers.
In his teens Arch moved to Rome, to follow his dream and to become an actor. He got in to the Acting school of Rome, where he showed lots of talent in playing many different characters. This was also where he met his first wife and only true love Cristina. Arch fell in love with her immidietly and the couple spent lots of time together. When they were both twenty, Arch asked her to marry him. Cristina said yes and the couple moved to Corleone. They were set to be married in the same chappel where Arcangelos parents were married. Everything was planned but something went wrong. The rival family's enforcers stormed the chappel firing their guns on everyone. Both his father and mother were shot amongst many other of their relatives and associates. Even his brother was shot before he could defend himsef. Arc and Cristina hid behinde the chairs but Cristina was mortally shot. Arc was broken, the only thing he loved the most was taken from him. That is when he decided to leave Sicily and Italy for good.
Arcangelo left to London, United Kingdom where he tried to become an actor but there was not enough work for him. Knowing that he had to do something for his living he baceme a con artist. He worked under many different aliases and conned lots of rich people. He began to want more and his con became bigger and more dangerous ones. He even tried to do an insurrance fraud and when he thought he had successeeded, the Scotland Yard arrested him. He was sent into Standford prison for two years. There he quickly gained respect and kept a gambling ring there.
After his time in prison he moved to Romania, where he met an mentalist who taught him cold reading. In Romania he met his second wife, a german girl called Erica Manstein. She was actually the mark of Arc next con. The couple get married and had a a boy named Albert. They quickly moved to Germany where Arc got to know Erica's rich relatives. He was able to con their money as well as Erica's and left her when Alber was 8.
He then moved to Paris. There he met an lovely french woman, Natalie Anderson. She was a rich heires of an Hotel magnate and the perfect target for Arc. Arc courted her under the name of Napoleon Vaughn and in six months the couple was married. After two years Arc's daughter Maria was born. Natalie's father owned lots of hotels all over the world and especially in USA. Arc used his character Napoleon Vaugh, who acted as an inspector for an insurance company to make his father in law to sell a hotel in New York and in Las Vegas to an wealthy investor called Archangelo Solo. He made it look like the money came from mister Solo but in reality it was the sellers money all along. Before leaving Natalie he moved her money to his bank account and left the country to Spain.
In Spain he lived the life of an billionaire. He bought houses with a cheap price and then sold them with a bigger price. He lived like a king. He met a girl there, which he really liked. Though the couple never got married they had a son, Luciano. Arc was starting to settle down when the girl took his money and dissappeared. Arc was furious but he let the matter be as he still had money and two Hotels in United States of America.
He moved to Las Vegas to run his new Hotel and Casino. The casino made lots of money to him, even though he had told his card dealers to cheat sometimes. He spent couple of years there before he moved ot New York City. He opened his Hotel for customers and again money flowed in when celebrities came to live in his hotel. He partially left his con artist carreer and concentrated on his new hotel bussiness. Though he used his skill on getting better deals out of clubs and casinos. He quickly owned many high roller clubs and hotels in Las Vegas as well as in New York. No matter how many hotels he owns he still wants more and is always looking for new challenges.
RP Sample:
Arcanglo walked trough his casino. He looked around him seeing his dealers dealing cards for high rollers and casual people who wanted to win or lose their money in Las Vegas. He knew he was an old man but he had gained respect in the bussines and his latest deal on the Montecito Hotel and Casino had bring it even more. These people he saw didn't even know they were about to be cheated and the police or FBI hadn't any kind of interest on his bussiness. This was his last night in the casino for a while as he was going back to New York to see how things were going there and to buy new bussiness. He had his eyes on something big, he just had to see what it would be. The doors opened infront of him and he saw a black limo in front of the Casino.
"Good morning mister Solo!" the driver said.
"Morning Frank, take me to the airport" Arcangelo said. "Verywell sir" Frank replied and opened the backdoor.
Arc stepped in and seated himself. "Going back to New York, sir?" Frank asked when he sat behind the steering wheel. "Yes, i have some bussiness there i need to take care off" Arc answered. Frank started the car and headed towards the airport. Arcangelo closed his eyes.