Post by Eric Black on Jun 24, 2009 1:22:18 GMT -6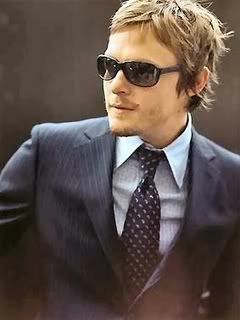 Lieutenant Black
Name:
(Eric Gabriel Black)
Known Aliases:
Black
Play-By:
Norman Reedus
Division:
NYPD (Lieutenant)
Branch:
Serious Crimes Unit
Convictions:
No, he's careful...
Date of Birth:
05/26/1979
Place of Birth:
(L/A, California)
Age:
30
Sexuality:
Straight
Relatives:
Johnathon Black (Father)
Lisa Black (Mother)
Thomas Black (Brother-deceased)
Jennifer Black (Sister)
Spouse:
None
Children:
None
Personality:
Eric is a dirty cop. Not only is he addicted to morphine, but he plays both sides of the law to keep himself on top. Sometimes he plants evidence, sometimes he helps get rid of a body, sometimes he cuffs a stray mobster (or shoots them, in "self defence" of course). He's untrustworthy, playing by his rules and not the law's or the mob's. He knows enough to bring a lot of people down with him if the bad guys exposed him to the force, and if they tried to kill him...well...no one kills a cop. Guardian angel one day, devil the next, Black is an asset to any organized crime and a real pain in the ass.
Appearence:
When he's not wearing the police uniform, Black's usually seen in casual clothes like jeans and plain shirts. His hair is slightly messy, but still short enough to fit regulations. He stands at 6'0, weighing around 180lbs.
Background:
Eric was born and raised in Las Angeles, living in a poverty stricken neighbourhood. His parents were well off enough to get bread on the table, however the poor school system failed Eric. He dropped out shortly after reaching middle school. In 1992, during the L.A riots, Eric lost his brother in a violent attack, while he himself suffered a serious injury in the same attack. The young Eric Black was hospitalized for two weeks before recovering, though he often complained about headaches since. He would continue to abuse pain killers to this day, though the drugs had changed, Eric always had something handy to depend on.
Bitter from the death of his brother (as well as the injuries that he suffered), Eric decided to make a difference in peoples lives. He wanted to become a police officer. He wanted to protect and serve the people, while dealing with piece of shit criminals with effective force. He reentered school and passed highschool with minimal grades, all the while dealing with addiction. He kicked the addiction before applying to join the police, one of the hardest things he ever did. When he was clean, he entered the academy and saw his dream come true.
Things were going good for a while. He ignored the burning pain in the back of his skull, brought on by job stress and overexertion, but he relapsed and began picking up on painkillers again. The problem was, it was especially hard to get the drugs he wanted now that he was a cop. He had to go to the source. He had to get into the world of those he hated the most. Making a deal with the devil, Eric began his real journey. Walking the line between a lawman and a criminal, and yet somehow being worse than both. His strongest ties are to the Provenzano family, who not only have a good handle on narcotics, but also control most of the turf that he patrols in New York. Also, as long as things stay civil between himself and the Provenzano family, Eric's parents' 'Black Coffee' coffee shop stays untouchable.
Recently promoted to lieutenant, Black has a lot to show for his rank. Of course, most of it wasn't from honest work...a lot dealt with working one mafia against another, letting things get out of control, then picking up the pieces of the aftermath. He's considered a hero by most civilians and fellow officers, but some have their suspicions.
RP Sample:
"Jesus..." Eric muttered, walking over to the crime scene. It was raining, and the blood from the body was flowing down the street like a red river. Of course, he knew who the corpse was, but he faked well enough.
"Oh, Lieutenant," Officer Daniels said, "good to see ya. Looks like we've got another professional killing here. Execution style."
Black nodded, lighting a cigarette before a cloud of smoke exhaled from his lips.
"And evidence? Shell casings? Footprints?" Eric asked, staring at the crime scene as if for the first time.
But it wasn't really the first time. After all, it was Black that shot the man dead, placing the barrel against the back of his head before pulling the trigger in the rain. The same rain that washed over all of them right then. There wasn't a shell casing, Black knew, and no footprints. No evidence left behind. It was like a ghost went out and shot this gangster dead. But it was something far deadlier than a ghost. It was someone very real. Solid. Someone that just tied a loose end and helped a family out. A favour for a favour.
"Nothing," Daniels replied, shaking his head in defeat, "we've got nothing solid."
Black swore aloud, finishing off his cigarette before dropping it to the earth. No, they didn't have anything solid, he silently agreed. All they had was a ghost.