Post by Samuel "Jimmy" Stark on Jun 22, 2009 15:24:33 GMT -6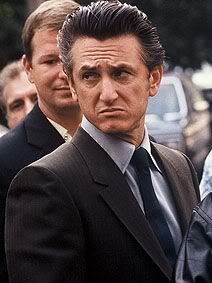 Samuel Stark
Name:
Samuel Jeremias Stark
Known Aliases:
Jimmy Stark
Play-By:
Sean Penn
Division:
FBI
Branch:
Special Agent of Organized Crime Unit
Convictions:
N/A
Date of Birth:
January 5th, 1974
Place of Birth:
Washington, District of Columbia
Age:
34
Sexuality:
Straight
Relatives:

Father:
James Martin Stark, age 66 lives in Chicago
Occupation: Retired police officer.
Mother:
Anne-Marie Jones (nee Langdon), age 58 lives in Los Angeles
Occupation: Nurse

Sister:
Hannah Wallace (nee Stark), age 32 lives in Washington D.C
Occupation: Physician
Spouse:
Mary Stark (nee Anderson), age 31 *Died in a car bomb*
Occupation: Lawyer
Children:
Son:
Tony Lucius Stark, age 15 *Died in a car bomb*
Daughter:
Sarah Marie Stark, age 13 *Died in a car bomb*
Personality:
Samuel is very devoted to his job and pursues his goals no matter what. If he wants something done he usually does it himself. Before his family was murdered Samuel was a loving father and husband but after the incident he has shown lots of anger to wards suspects. Samuel has always been short tempered but that hasn't been a problem to him as his partners usually gets him cooled down. He doesn't like when his work partners mention his dead family and if someone does he better face the consequences. He sometimes got in to a disagreement with his superiors. He can also be very persuasive if he wants someone to tell him something and sometimes uses techniques that are not approved by FBI.
Appearance:
He usually combs his hair back with gel to keep it there for the whole day. In work wears shirt, dark blue tie, dark suit jacket, matching trousers and black or brown shoes. Outside work he often wears t-shirts, jeans and leather jackets. He owns a rather moderate body build, which he keeps in shape by jogging everyday and by going to the gym three times a week. Has small bullet wound scars in his body.
Background:
Born in Washington D.C in the middle of 70's, to an young police and a nurse. Samuel didn't really live the life of luxury neither he didn't live the life of an poor but even with his fathers salary he didn't have all the newest toys in town. He lived the life of an normal American boy, he got good grades in school but also got in troubles sometimes with the teachers. He was the popular kid in his school and had friends all over the city. He showed lots of interest in sports and in High School he joined the Schools baseball team. When Samuel was 15 his parents divorced and Samuel stayed with his father while his sister moved to live with her mother.
In College he was kicked out from the Baseball team because he broke his leg in an motorcycle accident. After College he joined the FBI which seemed a better option than follow in his fathers footsteps. Due to his good school and sports background Samuel passed easily the tests and proved to be amongst the best in his class. During his training he met Peter his best friend. Peter introduced Samuel to his sister Mary. The two of them quickly fell in love and after a year they got married. Samuel and Peter both joined the Organized Crime Unit of FBI and worked as partners.
Only after a year Mary gave birth to an healthy baby boy who was named Tony Lucius Stark. Samuel spent all of his free time with his family and sometimes he even took vacation from work just to be with his son. Two years later Mary gave a birth to an another child, this time a girl Sarah Marie Stark. During this time Samuel and Peter began on investigating the case of Organized Crime in Washington D.C and in the state of Maryland.
This investigation quickly brought enemies to Samuel. First it seemed that all the leads were dead ends and the investigation staid still but after the successfully raid in 2006 to an Juliano crime family front in Baltimore the investigation got rolling. Mobster after mobster was arrested trough out the state. Samuel and Peter both started to get threat calls and messages which threatened to kill them and their families.
Years passed and the investigation was still ongoing as there was still not enough evidence to bring down head of the crime family Albertos Juliano but Samuel, Peter and their team was getting close as in December 24th 2006 they arrested Michael Juliano, son of Albertos Juliano from his home.
In 2007 Peter Anderson, Samuels best friend and work partner was shot in the front of his home. The murder investigators found the murder weapon few blocks away and from it they found the fingerprints of an well known Juliano enforcer, Nikolay Juvanov also known as "The Russian". Juvanov was arrested and Samuel was able to offer him a deal if he would testify against Albertos. Juvanov accepted the offer and a year later Albertos was brought before justice.
In 2nd of February 2008 Nikolay Juvanov was suposed to testify against Albertos but he never arrived to the court session and Albertos was released. Samuel knew that Juliano was behind this and continued his investigation. March 5th 2008 was the anniversary of Samuel's and Mary's wedding and they had arranged a trip to Paris. Samuel had promised to pack the baggages while Mary would drop the children of to her parents. Samuel stood in the front steps of his house and waved to his children when his phone rang, he answered it and a strange voice had said something that made him confused. When he had looked back at the car it exploded.
Samuel had just lost the most dearest things in his life. The investigation revealed that they had been killed by an bomb planted in to the car. It was unclear was Juliano behind this but Samuel blamed him and his family. Samuel wanted a revenge but a week after the incident Albertos Juliano was shot in his bedroom. No one knew who the shooter was but the FBI was more than happy as after the death of Juliano the whole organization crumbled down. Samuel in the other hand was not happy, someone had denied his revenge.
He was sent to an vacation for months and when he finally returned he asked to be transfered to New York department. He had nothing left in Washington. Samuel was now sent to New York to work as an Special Agent for Organized Crime Unit.
RP Sample:
It has been already a year since his family had been murdered. Samuel sat behind his desk looking trough papers. It was the updated summary of information given by the undercover agents.
Nothing, nothing, nothing
, he said to himself. Agent Williamson opened the door. Samuel stood up.
"Sir, here is the update from our special agents" Samuel said and handed the papers to Williamson. Williamson took a quick look at the papers. "Still no progress?" he asked. He looked very disappointed. "Yes" Samuel said. Williamson didn't say anything, he turned around and left the room. Samuel sat down and sighed. This was not the kind of job he had expected when he was transfered. Sitting behind his desk looking trough papers that all said the same thing.
The phone rang, Samuel picked it up. "Agents Stark" he answered.
"Agents Stark, there is matters we need to discuss" Richard Thomas's voice said. "Meet me in my office in one hour" he continued. "Yes, sir" Samuel said. He hung up and leaned back.
What would be so important?
, he thought to himself.