Post by Giovanni DiLeonardo on Mar 12, 2009 22:38:16 GMT -6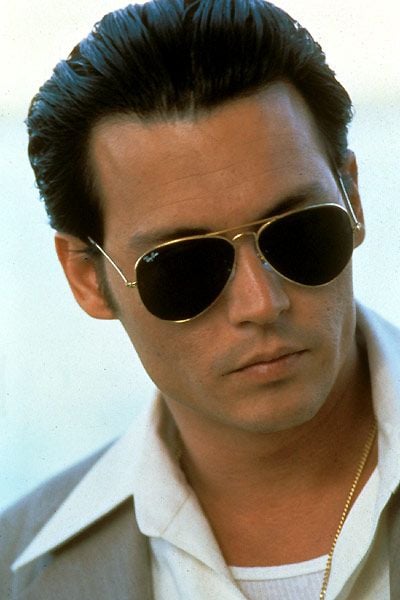 Don Giovanni "Handsome Jack" DiLeonardo
Name:
Giovanni Giuseppe DiLeonardo
Known Aliases:
"Handsome Jack", "Labor Union Johnny", "Jo Jo", "Johnny Boy Adonis", and "Johnny-From-The-Bronx"
Play-By:
Johnny Depp
Family:
DiLeonardo Family
Crew:
N/A
Rank:
Don of the DiLeonardo Family
Convictions:
Extortion and Racketeering (5 years)
Date of Birth:
August 7, 1981
Place of Birth:
Castellammare del Golfo, Sicily
Age:
28
Relatives:
Father:
Massimo "Skinny Max" DiLeonardo (Father; Mafia Caporegime; Deceased)
Mother:
Concetta Vitale-DiLeonardo (Mother; 60 years old; Currently lives in The Bronx)
Older Brother:
Adriano "Adrian Guido" DiLeonardo (Brother; 32 years old; DiLeonardo Caporegime)
Older Brother:
Carlo "Two-Time Charlie" DiLeonardo (Brother; Mafia Soldier; Deceased)
Uncle:
Enrico "Il Papa" DiLeonardo (Uncle; 66 years old: Don of Castellammare del Golfo)
Spouse:
Serafina Grillo-DiLeonardo (Wife; 28 years old; Mother of their three children)
Children:
Oldest Son:
Gianni Carlo "GianCarlo" Massimo DiLeonardo (8 years old)
Youngest Son:
Angelo Girolamo DiLeonardo (2 years old)
Daughter:
Donatella Concetta Serafina DiLeonardo (1 year old)
Personality:
Giovanni is your typical "Man of Honor", he prides respect, loyalty, and adhering to omerta more than just brute strength. Giovanni sees himself as a modern-day Julius Caesar. Giovanni is a natural-born leader with a commanding prescence. He possesses a speaking voice of great persuasiveness and authority. He is a formal, punctilious man, with Old World manners and attitudes. Giovanni is also a cold, cunning, and manipulative individual. He will not hesitate to kill anyone who stands in his way or any rat who informs on other mafioso.
Appearence:
Giovanni is compactly built at two hundred pounds, with squared shoulders, like a West Point plebe. He is six-foot-two inches tall, with rich olive colored skin and almond shaped brown eyes. Giovanni almost always wears a custom-tailored double-breasted Brioni or DiLisi silk suit. The suits are accompanied by a white breast pocket hankie and a hand painted silk tie. Over the suit, he wears a cashmere overcoat and from his neck dangles a gold chain and a diamond pinky ring flashes from his left pinkie. His dress shirts vary in color, and on his feet, he wears monogrammed silk socks and usually a black pair of highly-shined wing-tipped shoes. Giovanni will also occasionally wear loafers. Atop his head, there is always a black or pearl white fedora. Giovanni has jet-black hair that is neatly trimmed and his prominent widow's peak is usually styled in a swept-back coiffure.
Background:
Castellammare del Golfo, is a fishing village and known world-wide as the ancient breeding ground for the Sicilian Mafia. On August 7, 1982, it was also the place where Giovanni Giuseppe DiLeonardo was born. Giovanni was the third son and last child of Massimo DiLeonardo, a local mafia chieftain, and Massimo's wife Concetta Vitale.
Giovanni had a great childhood, and ever since he was four years old, he knew he wanted to be a mafioso. When Giovanni was seven, Massimo and the DiLeonardo family fled Sicily and headed to Canada. Massimo had killed a member of the Italian Carabinieri, and knew he must flee Sicily or face prosecution. The DiLeonardo family only stayed in Canada for three days, and then they illegally crossed the US-Canadian border and entered New York.
Once the DiLeonardo family was in New York, Massimo gradually moved his family southward, where they settled in The Bronx on October 9, 1989. It was there, that Massimo met and struck up a friendship with James "Tiny Jimmy" Cafaro, a Righetti Family caporegime. Giovanni grew up with "Uncle" Jimmy and his father constantly bringing Righetti mobsters to the DiLeonardo household.
When Giovanni was sixteen, Jimmy Cafaro was shot and killed by rival mobsters, and Massimo, who was made in 1993, stepped up and became capo of the old Cafaro crew operating out of The Bronx. Giovanni, during his childhood, tried to stay out of trouble and be what his father called "A good little American boy," but when Giovanni turned seventeen he dropped out of high school and became an Associate with the Righetti Family.
For a small part of 1999 and for all of 2000, Giovanni was an Associate. It was grunt work, which mainly consisted of driving the Don, a beefy man named Federico Righetti, to and from meetings. On December 3, 2000, the nineteen year old Giovanni DiLeonardo, married his longtime girlfriend, Serafina Grillo in a lavish ceremony in Brooklyn. Serafina was the daughter of Righetti consigliere Alphonse "Allie Boy" Grillo. Giovanni perservered this "Initiation" period and of January 6, 2001, he was inducted as a soldier in the Righetti Family. He was placed in his father's crew.
The euphoria of being a soldier and his marriage lasted only a short while, because on August 29, 2001, Giovanni was arrested for Extortion and Racketeering and sentenced to five years in Sing Sing Prison. The day before Giovanni was shipped off to Pembrook, he found out Serafina was pregnant with their first child. Sure enough, nine months into Giovanni's sentence, Serafina gave birth to a son whom they named Gianni Carlo Massimo DiLeonardo, who was called GianCarlo ever since his birth.
In early-2006, Giovanni "Handsome Jack" DiLeonardo was released from prison, and he quickly rejoined his father's crew. Massimo was quickly gaining enemies, and the only thing that kept him from being whacked was Jackie's influence in Pembrook. The Righettis had many of their powerful members serving time in Sing Sing, and Federico Righetti feared that if he killed Massimo, Giovanni would retaliate in prison. On April 1, 2006, Massimo "Skinny Max" DiLeonardo was shot and killed by a Righetti hit squad.
Giovanni and his older brothers, Adriano and Carlo, who were also made men, swore revenge on Federico Righetti. Using the influence they wielded in their father's crew, The DiLeonardo Brothers ignited a war against the Righettis. This was dubbed by the media as "The DiLeonardo War." The DiLeonardo Brothers first move, was to import a hundred Sicilian Zips from Castellammare del Golfo, to fight for the DiLeonardo's. Zips were Sicilian nationals who swore alliegence to the DiLeonardo Brothers. The Zips were supplied by Giovanni's uncle, Enrico DiLeonardo, who had rose to become Don of Castellammare del Golfo.
During the early stages of the DiLeonardo War, Carlo "Two-Time Charlie" DiLeonardo was shot and killed while he was eating lunch with his wife and child. The DiLeonardo Faction, struck back. Two days after the death of Carlo DiLeonardo, a small team of Sicilian Zips ambushed and killed Peter "Emperor Nero" Righetti, the only son of Don Federico Righetti, and a Righetti capo who was known for his violent temper, hence his moniker "Emperor Nero."
On January 19, 2007, Giovanni began construction on a lavish mansion on Staten Island. Threatning labor strikes, Giovanni paid only one hundred thousand dollars, on a house valued at eight million dollars. For the next seven months, the DiLeonardo War would scar New York City, with Righetti mobsters taking pot shots at DiLeonardo supporters in bars and nightclubs. On October 2, 2007, Federico Righetti was shot and killed by the Sicilian Zips while he was exiting a Social Club.
With the death of Federico Righetti, and the backing of his father-in-law, there was only one person who stood in Giovanni's way of becoming Don, the Righetti Underboss, Anthony "Tony Fila" Filacomo. It would take two more months before Filacomo was eliminated. On Christmas Day, 2007, Anthony Filacomo was pulled over by DiLeonardo supporter and NYPD officer Antonino "Tony the Cop" Roselli. Roselli shot and killed Filacomo. With the elimination of Righetti and Filacomo, and with the backing of his father-in-law, Alphonse Grillo, Giovanni "Handsome Jack" DiLeonardo was named the new Don of the Righetti Family.
Giovanni's first act as Don, was to change the name from the Righetti Crime Family to the DiLeonardo Crime Family. Giovanni named high-ranking DiLeonardo Family capo, George "Georgie Boy" Brutale, as the new DiLeonardo Underboss. He kept Al Grillo as consigliere and he promoted his brother Adriano to capo. Two weeks later, Serafina gave birth to their second child and second son, whom they named Angelo Girolamo DiLeonardo. Al Grillo and Georgie Brutale would keep their positions until December 20, 2008, when they were killed in a plane crash returning from a meeting in Palermo, that was brokered by Giovanni and the Don of Palermo's Santa Maria di Gesu Family. The positions of Underboss and Consigliere are still currently vacant, and Giovanni is still looking for the right men for the job.
2009, was a rough year for Giovanni. Giovanni welcomed a third child, a daughter named Donatella, with his wife Serafina. However, this joyous event quickly ended when he found out that his former friend, the charasmatic young Capo Luciano Santapaola was carrying on an affair with his wife Serafina. Giovanni's wrath was swift and brutal. He forced Luciano into exile in Montrèal, while purging the DiLeonardo Family of those loyal to Santapaola. Two of these murders led to his arrest in October of 2009, for the murders of Santapaola loyalists Bruno "The Bat" DiCarlo and Luciano's own cousin, Sicilian national Marcello "Mikey May" Santapaola. To top it off, Luciano forsaked his exile and returned to New York City with the support of his old crew. It looked grim for Giovanni, but on December 30, 2009 he was cleared of all charges and he returned to the streets. Now he is preparing for war against Santapaola, and he hopes to stay out of jail again.
RP Sample:
Outside The Ambassador Social Club, a small group of DiLeonardo soldiers stood in the pouring rain, waiting for the twenty-seven year old Don, Giovanni "Handsome Jack" DiLeonardo and his thirty-two year old brother, capo Adriano "Adrian Guido" DiLeonardo, to emerge from the club. Giovanni and Adriano finally emerged, and one of the soldiers hurried forward with an umbrella.
Giovanni looked at the soldier as he placed the umbrella over his head, and asked "Are your men in position?" the soldier nodded and then replied "Of course Don DiLeonardo. The men are stationed around the bar down on Mott Street." Giovanni nodded, and then wretched open the door of the waiting Rolls-Royce and got in. Sliding towards the middle of the car, the door to the right of him was opened and one of the soldiers, a man named Albert "Al Walker" Guglielmi, slid down on Giovanni's right, while Adriano sat on his left.
Giovanni looked at his driver, a DiLeonardo soldier named Andrew "Andy Mush" Petruso, and said "Andy, take me to the Bright Star Bar on Mott Street. We have some business to take care of." Andy Mush nodded, and pulled away from the curb of The Ambassador, and headed south towards the bar. It took only five minutes, and then Andy Petruso pulled the car to a stop on the street across from the bar.
Giovanni, Adriano, Andy Mush, and Al Guglielmi got out of the car. Giovanni walked to the trunk of the car, as Andy opened it, to reveal a small arsenal of handguns and ammo. Giovanni and the others pulled out a gun each and filled the clip, and the Giovanni cocked it. As Andy closed the trunk, Giovanni and the other two crossed the street, where they were greeted by members of Adriano's Bronx crew.
Giovanni entered the bar, and headed over to the owner who was manning the bar. He looked at Giovanni and then tried to flee. Adriano, rushed forward and tackled the owner, while Giovanni and the others hopped the bar counter and began to break the glasses and bottles of liquor. Adriano dragged the owner towards Giovanni, who yelled angrily "Your going to give your kickbacks to the Provenzanos! Listen to me carefully, this is DiLeonardo turf, and you will pay us. Next time I have to pay you a little visit, it will end much worse for you." amd with that, Giovanni raised his pistol and fired two shots at the owner, who was still being held by Adriano. One bullet hit the owner in the shoulder and the other in the kneecap. As the owner let out a scream of pain, Giovanni faced the frightened patrons and said "Remember, you ain't seen nothing!" and he motioned for the men to follow him out of the bar.